THE AFFORDABLE CORPORATE
FITNESS SOLUTION
FitKit offers employers an affordable corporate fitness solution that includes wellness resources, tools and materials to engage and motivate employees to ensure ongoing wellness participation.
"The price point and added resources made FitKit the perfect choice for our wellness needs."
Karen Bradbury, HR, UNUM
YOUR LOGO. YOUR MESSAGING. YOUR BRANDING.
Encourage Health – Promote Your Brand
The FitKit can be fully customized to support your unique requirements and budget.
PERFECT FOR
-Wellness Programs
-Incentives
-Client Gifting
-Rewards
-Conference Giveaways
-Employee Recognition
ADDITIONAL WELLNESS OFFERINGS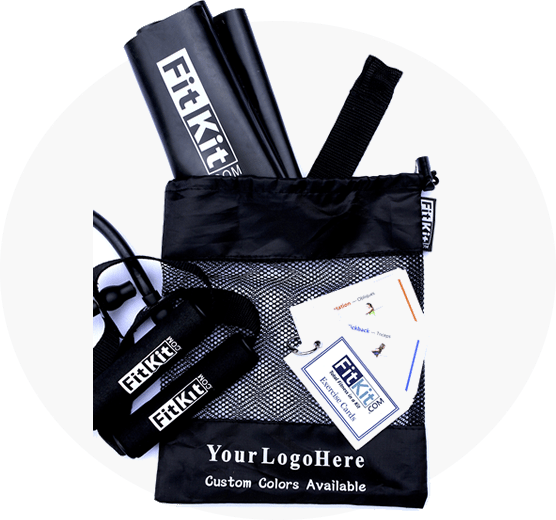 The FitKit Mini includes all the same resources and support as our classic FitKit, but with fewer items, more affordable packaging and a lower price point. The exercise cards and hangtag and be branded with your logo!
Not Just a Product….A Complete Solution to Keep Your Employees Engaged.
Wellness Tools & Resources
Get Started Video
Exercises– A starter set of exercise cards are included with each FitKit. An additional 250+ Exercises are available online at FitKit.com and include strength, cardio, and flexibility with pictures and instructions.
6 Week Workout Plan
6 Week Nutrition Plan
FitKit Wellness Challenge – Guidelines to implement challenges, utilizing the FitKit tools and resources.
Dedicated Champions – Best practices to develop a "boots on the ground" champion program.
Wellness events – Tips for creating events both internally and within your community.*
Tracking – Suggestions for finding the best system to help your team reach their goals.*
Ongoing Support
Videos – Amie will motivate your team with weekly 2 minute videos to include fitness, nutrition and wellness tips, exercise move tutorials, workout suggestions and encouragement.
Social Media –Guidelines to create and content to fill Social Media groups to encourage employee interaction.*
Coaching – Amie can provide one-on-one or group coaching to employees.*
Ask the Coaches – Our nutritionists and trainers are available via email to answer questions.
Tips, recipes and healthy articles to share*
* Additional Consultation Services Available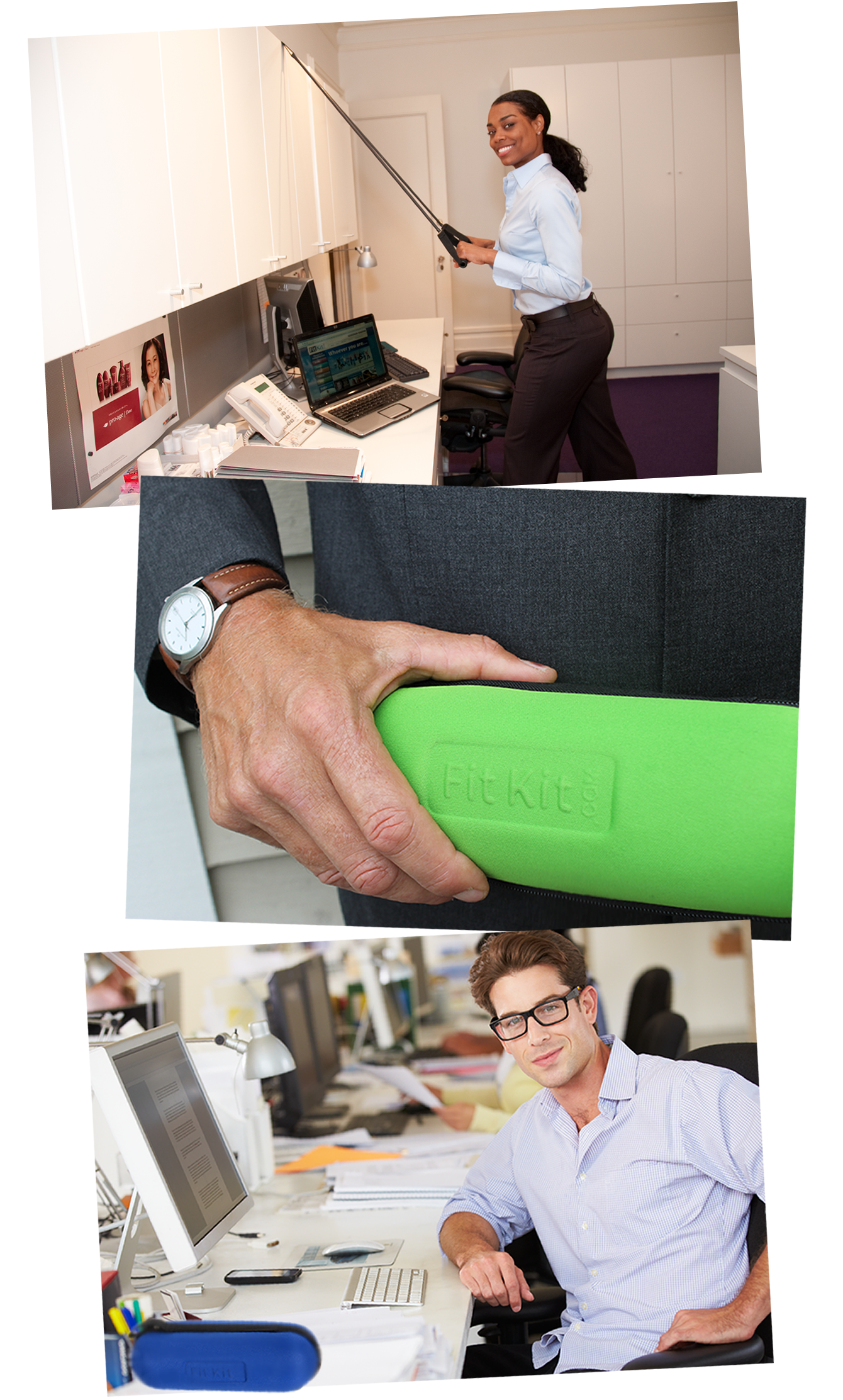 "Fitkit was the perfect holiday gift for our employees for keeping them fit while traveling or sitting for long periods of time in business meetings!  Amie Hoff and her team at FitKit were a pleasure to work with."
Rosanna Pesicka, Chief People Officer, Antea Group
"We ordered branded FitKits (which looked amazing!) to distribute at a national conference. They were definitely the star of our booth!"
Dora Roman, Sales Development Director, Everyday Health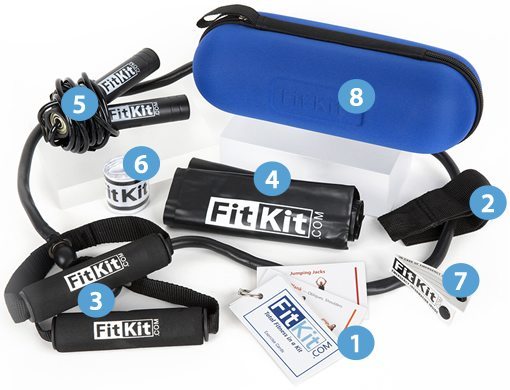 1.  Exercise Cards – Exercise cards with photos and instructions to get you started on your way to reach your goals!
2.  Door Anchor – To use with the tubing with handles, attaches to any door to expand your exercise options.
3.  Tubing with Handles – Resistance Tube with Cushioned handles. Can be adjusted to increase/decrease resistance.
4.  Flat Resistance Band – A 4 ft. long flat rubber band to use for a variety of the included exercises. Medium resistance.
5.  Jump Rope – With contoured hand grips, barring handles and PVC rope.
6.  Reflective Arm Band – Exercise outside safely! Reflects under headlights or street lights.
7.  ID Tag – Worn on the Shoe – Emergency ID tag provides personal, emergency contact and medical information. Simply thread through your laces and snap close.
8.  Neoprene Case – Store all your fitness and safety tools in this durable, compact and portable case. Only 10" x 4".
250+ Exercises
Strength | Cardio | Flexibility
All FitKits come with a set of exercise cards, including pictures and instructions to get you started. Access to the entire 250+ exercise library is available online, 24/7. All exercises were developed by fitness expert and corporate fitness consultant, Amie Hoff.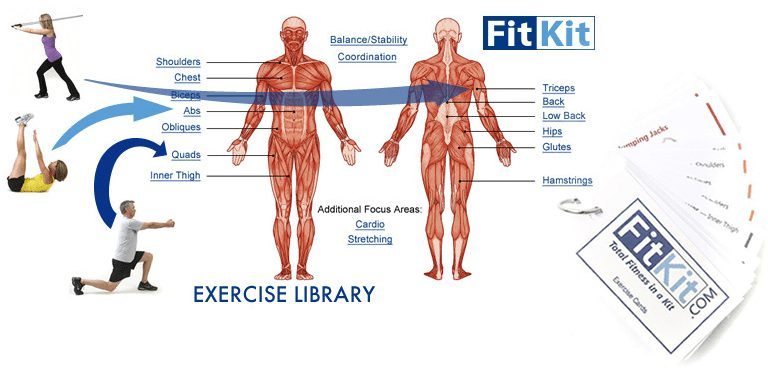 "We love FitKit! Amie and her team are amazing to work with. With so many possibilities, the custom FitKits are the perfect corporate gift and exactly what our clients are looking for."
Lauren and Tara, Best of Best Gifts

"I have a lot of employees who travel so FitKit was the perfect answer! I was impressed with how speedy and painless the whole buying experience was. And by the incredible response I've gotten from my employees, will definitely order more."
Bri Alianiello, Corporate Health Live Oak Bank
Created by Corporate Fitness Consultant and Fitness Expert, Amie Hoff
As a certified corporate health and fitness consultant, Amie wanted to offer organizations an affordable, simple to use and easy to implement fitness solution. FitKit and its added resources, tools and employee activity engagement support is perfect for both successful employee wellness programs as well as companies just starting a wellness program.
Amie and her tem will work with you to meet any special requirements, needs or wellness budget. If you're looking for employee incentive ideas, challenge rewards, client gift ideas or creative conference giveaways, contact Amie and her team for more information and volume pricing.