If you are recording your activity and nutrition on the My Fitness Pal app, these tips will help make it seamless and simple. Remember, I am down in the trenches with you so know how hard (an eye opening!) tracking everything is. Trust me, it gets easier.
Be sure to 'friend' me (amiehoff) and others and share the diary feature if you want to follow along with I and others are doing. On your tool bar, go to My Home -> Settings -> Diary Settings -> at the bottom of the page under Diary Sharing, click friends. See photo: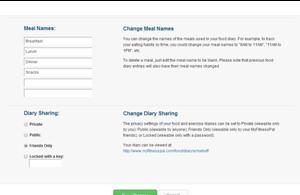 Save Meals– You can save the meals you often eat so you don't have to enter all the ingredients each time. It makes life much easier! On your toolbar, click food -> Food Diary -> choose the day you had a meal you want to save. Under the meal choose Quick Tools -> Remember Meals -> name your meal. See photo below.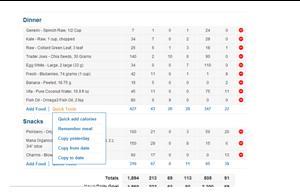 Tracking activity – You can also save your typical and the workouts you often do in the same way. You can also create your own activities if it is not listed. Or you can find one close. It doesn't have to be exact. We just want to see you are moving and what you are doing for activity.
Steps – We want you to try for 10,000 steps a day. If you run, bike or do another activity, do not count your calorie burn twice. If you have a fitbit or Jawbone up, you should be able to sync your device. If you are using the Garmin Vivofit, Omron Pedometer or other tracking device, you can manually add them. When you enter steps and there is no match, click the Add Exercise to Database like in the photo below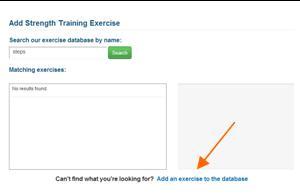 You can then add different steps (Create A New Exercise) and the approximate calorie burn. I listed 10,000 steps in 24 hours which is about 400 calories. See the photo below: