---
Price Per Set - No Customization (4E)
1-25
25
250
500
1000
$9.99
$6.00
$5.50
$5.00
$4.00
A

Print 4 Color Logo on FRONT Cover (4G)
Qty
25
250
500
1000
+$3
+$3
+$2
+$1
B

Print 4 Color Logo on BACK Cover (4G)
Qty
25
250
500
1000
+$3
+$3
+$2
+$1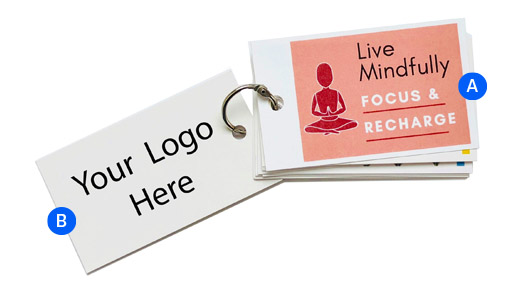 Measurements

Dimensions
3.5" x 2" x 0.25"
Total Weight
3 oz
Customization

Inprint Type
Digital
Imprint Area
Front or Back: 1" x 1.5"
Imprint Colors
4 Colors
*Custom Cards - 500 qty Minimum.
Contact Us

Production Time

Varies depending on quantity and level of customization. Contact us for specific lead times or rush orders.
Shipping

Units per Carton
200
Carton Weight
16 lbs
Carton Dimensions
12" x 12" x 8"
Pack Method
Shrink Wrap
Ships From
Millington, Maryland 21651
Life can get busy. The Mindful Living cards help you slow down, focus and recharge. It's a go-to resource to calm the mind, find work-life balance, get better sleep, and gain inner happiness. Created by our team of wellness professionals, the 3.5" x 2" card set makes it convenient to keep at your desk, in your bag, or on the go. Perfect for desk drops, new hires and incentive giveaways.
Peace and quiet is a precious commodity these days and finding calm in a world of chaos can be a tall order. This section offers ways deep breathing exercises, meditations and more ways to find that quiet place in your mind.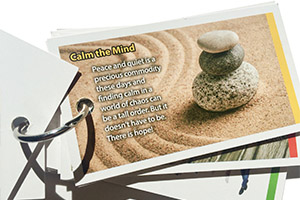 When striving to achieve balance in both work and personal life, we offer suggestions and tips to perform optimally in both areas.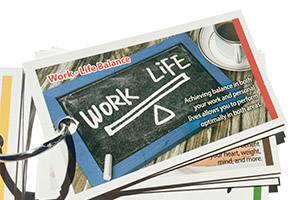 Adequate sleep is a key part of a healthy lifestyle. This section offers tips on getting a good night's sleep so you can be at your best all day long.
Happiness is a state of well-being that is key to a healthy life. We share a ton of simple ways to increase happiness and feel more optimistic.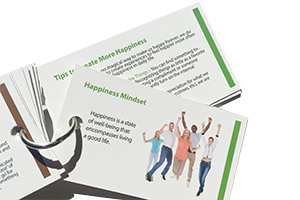 5
Eat Well / Move the Body
What you eat and how much activity you get has a direct effect on a healthy mind and body. We offer ways for you to make healthier food choices and get the body moving.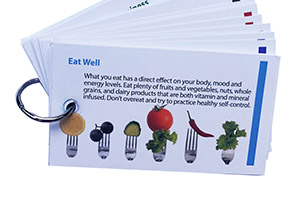 For order of 500 or more, we can create a custom card cover for the front or back. We are also able to customize one inside card to better share your message and mission. View Samples →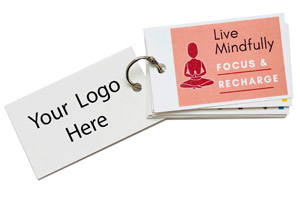 Our extensive Resource Hub was developed by wellness experts and offers support, motivation and inspiration. You will find our Fit in 5 Series, 6 Week Workout and Nutrition Plan, 200+ Exercise Library, Motivational Workout Videos, Articles, healthy recipes and more!
Check It Out →
Our Welcome Guide introduces you to all the resources included in your Kit and how to access them.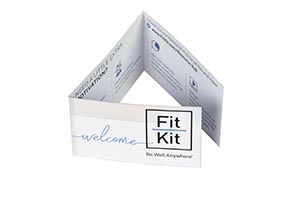 Encourage Health, Promote Your Brand
CUSTOMIZATION
There are so many ways to brand your FitKit! From printing your logo on the case or bag, to custom color cases and branded exercise cards, we can tailor customization to meet your budget and needs.
REQUEST QUOTE →