Live Well Kit
Our newest addition to the FitKit family, the Live Well Kit encourages balanced living. Tips and tricks to eat well, be active and live mindfully. Perfect for employee recognition's and wellness incentives or rewards.
What Comes in the Live Well Kit?
1. Flat Resistance Band
A 4 ft. long flat rubber band to use for a variety of the included exercises. Medium resistance.

2. Eat Well Cards
Healthy eating tips and tricks. Shopping and substation lists, healthy recipes and more!

3. Be Active Cards
Exercise cards with photos and instructions to get you started to reach your goals!
4. Live Mindfully Cards
Learn ways to calm the mind, get better sleep, find work life balance and more!
5. Bag
Drawstring linen, burlap or organza bag. (measures 6"x8")
6 Week Workout & Nutrition Plan
Includes a calorie calculator, targeted workouts, tracking journals, meal plans and more!

ASK THE COACHES
24/7 email access to ask our team of trainers and dietitians all your fitness and nutrition questions.

VIDEOS
Get Started with a 1 min intro video, Saturdays with Amie includes motivation & inspiration, and fitness tips and tricks.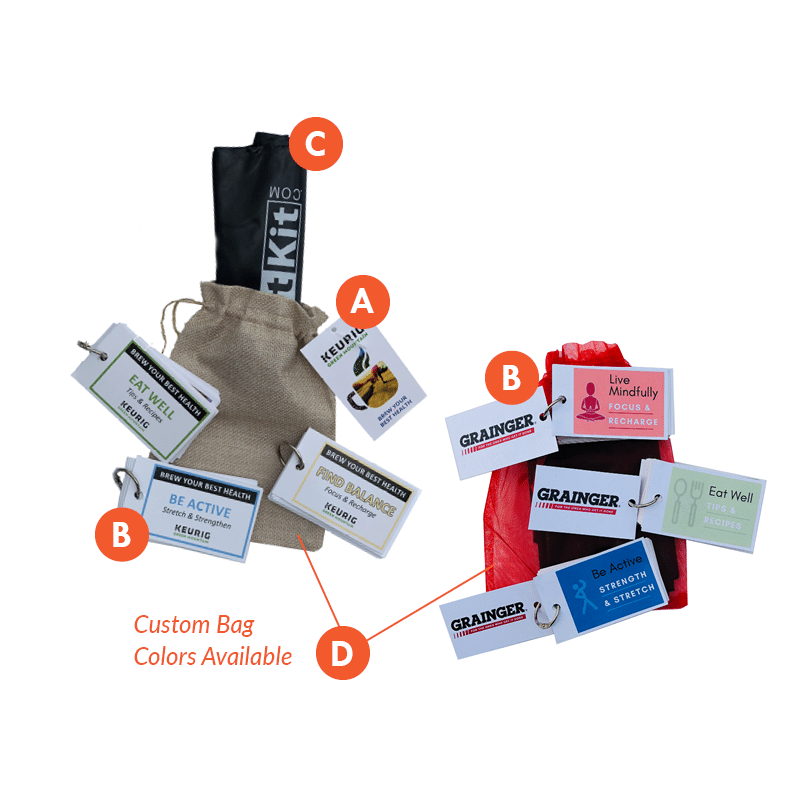 Add Your Logo
We will work with you 1-1 to design artwork to best showcase your logo and messaging.
A: Hangtag (3.5"x2"- custom design printed on heavy card stock)
B: Front or Back of Cards (3.5" x 2" – Custom Designed)
C: Flat Resistance Band
Custom Bags
D: Custom Color Organza (Green, Red, Orange, Yellow, Black), Burlap, or Natural Cotton Linen Bag
Pricing
Live Well Kit
1-25 (Retail Price)
25-499
500-2499
2500-4999
5000-10,000
10,000+
Basic, No Logo
White or Blue Organza Bag
N/A
$16
$15
$14
$13
Call for quote
Add Your Logo!
(Additional Charge)
1-25
25-499
500-2499
2500-4999
5000-10,000
10,000+
A. Hangtag
N/A
$0.75
$0.50
$0.50
$0.50
$0.50
B. Cards – Front or Back Cover
N/A
$3
$2
Included
Included
Included
C. Flat Resistance Band
N/A
N/A
$3
$2
$1
Included
Custom Bags
D. Custom Color Organza Bag
Green, Red, Orange, Yellow, Black
N/A
$0.50
Included
Included
Included
Included
D. Burlap or Cotton Linen bag
N/A
$1
$1
$1
$1
$1